"Of those who would enter our Fraternity we ask two things—that they know our ideals, and that they pledge themselves to help us realize those ideals." – from Rite I, The Ritual
Delta Upsilon refers to "pledges" as associate members. Associate membership is a serious commitment that requires effective time management and personal accountability. Associate members will complete an 8-week program culminating in the Initiation Ceremony. Prior to Initiation, associate members will complete the final examination to demonstrate readiness to join DU. Associate members should get a score of 80 percent or higher, and receive a unanimous vote for membership by the chapter.
During the 8-week program, associate members will learn the history and values of Delta Upsilon and the Virginia Chapter; demonstrate knowledge of fraternity policies and operations; improve awareness of academic and university resources; and identify pathways to successful leadership. This includes reading The Cornerstone and completing GreekLifeEdu webinars.
Associate members are expected to contribute to chapter service and philanthropic initiatives, attend educational programming like guest lectures and retreats, and represent the chapter in University organizations and DU programs. Associate members will be able to articulate how these events and programs align with our Founding Principles.
Associate membership includes pairing with a big brother, who will assist as a guide during the program. Big brothers serve as personal links to the current brotherhood, activities on Grounds, chapter history, and alumni.
In 2021, the Virginia Chapter was recognized for our Associate Member Education program at the DU Leadership Institute, the International Fraternity's annual convention.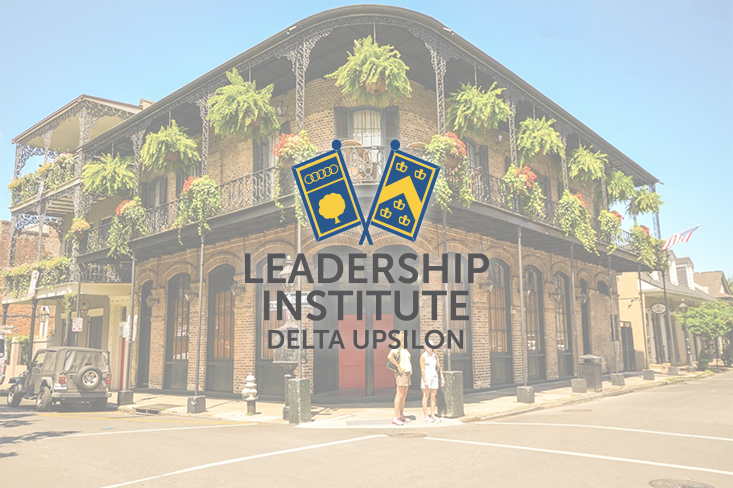 Member Education Resources
UVA Event Planning & Reservations
*Take advantage of the free and discounted resources available to you.
Academic Advising
*Consult your school/department for additional information.
Student Health & Wellness
*Includes CAPS virtual services.
Music and Drama Tickets
*Free to undergrads